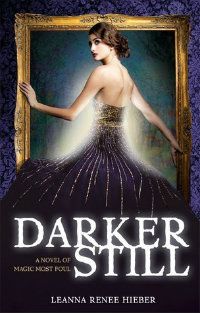 Darker Still
(Magic Most Foul #1)
By Leanna Renee Hiber
Published:
November 8th 2011 by Sourcebooks Fire
Read from:
January 3-6, 2012
Number of pages:
317
Source:
HS Library
Find it on:


S

ummary: I was obsessed.

It was as if he called to me, demanding I reach out and touch the brushstrokes of color swirled onto the canvas. It was the most exquisite portrait I'd ever seen--everything about Lord Denbury was unbelievable...utterly breathtaking and eerily lifelike.

There was a reason for that. Because despite what everyone said, Denbury never had committed suicide. He was alive. Trapped within his golden frame.

I've crossed over into his world within the painting, and I've seen what dreams haunt him. They haunt me too. He and I are inextricably linked--bound together to watch the darkness seeping through the gas-lit cobblestone streets of Manhattan. Unless I can free him soon, things will only get

Darker Still.
What originally drew me to Darker Still was the cover. I mean just look at it, it's gorgeous! I know one should never judge a book by its cover but I'm a total sucker for a pretty cover. Beautiful cover withstanding, what really hooked me was the books synopsis.

Set in New York in 1880, a new painting is added to the collection of the new Metropolitan Museum of Art. It is an unbelievably lifelike portrait of a young man by the name of Lord Denbury, who is believed to committed suicide. Despite what everyone believes, Miss Natalie Steward is about to find out Lord Denbury is very much alive, trapped inside the portrait.

As my "read" shelf on goodreads can attest I love historical fiction and paranormal so when this book combined my two favorite genres I knew I had to read it. The story defiantly lives up to the beautiful cover!

First, one of my favorite things about Darker Still is the strength of the protagonist Natalie Stewart. Ever since the death of her mother, Natalie has been unable to speak. She knows sign language, but rarely uses it since so few people understand it. This includes Natalie's father, who by Victorian standards is very caring. Natalie often mentions how she is lucky to have a father who sought out an education for her, and did not simply ship her off to a nunnery. Thanks to her father Natalie is able to read and write as well.

The story recounted to us through Natalie's diary, a very smart way of giving her a strong voice. By telling the story through diary entries, Leanna Renee Hieber gives her heroine a place not only to tell her tale, but also express ideas about the world around her that if she were able to speak would not be deemed proper for a young lady to be discussing.

I also really enjoyed the magic and romance in this story. With the help of Mrs. Evelyn Northe, a believer in the supernatural, Natalie soon discovers that only she is able to travel in and out of the portrait and is tasked with freeing him from the frame that holds him. As Natalie & Mrs. Northe continue to work out the magic holding Lord Denbury, a romance begins to develops between Natalie and Lord Denbury (who is very swoon worthy by the way *did you se the graphic at the top of the review...yeah), a romance that if he was not trapped inside a painting would take on a much more proper courtship of the Victorian era.

Over all Darker Still is a rich Gothic novel full of mystery, magic and romance. I'm anxiously awaiting the 2nd installment of this series.
My Recomendation
Oh how I enjoyed this book! I was totally sucked into the world of this story. If you enjoy books with strong charters, Gothic settings, dark magic and romance then you really should pick this one up.
The Rating: