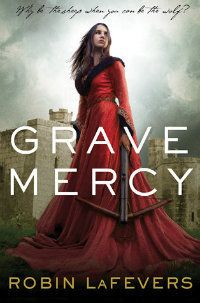 Grave Mercy
(His Fair Assassin #1)
By Robin LaFevers
Published:
April 3rd 2012 by Houghton Mifflin Harcourt
Read from: May 14-22, 2012
Number of pages:
549
Source:
HS Library
Find it on:


S

ummary: Why be the sheep, when you can be the wolf?

Seventeen-year-old Ismae escapes from the brutality of an arranged marriage into the sanctuary of the convent of St. Mortain, where the sisters still serve the gods of old. Here she learns that the god of Death Himself has blessed her with dangerous gifts—and a violent destiny. If she chooses to stay at the convent, she will be trained as an assassin and serve as a handmaiden to Death. To claim her new life, she must destroy the lives of others.

Ismae's most important assignment takes her straight into the high court of Brittany—where she finds herself woefully under prepared—not only for the deadly games of intrigue and treason, but for the impossible choices she must make. For how can she deliver Death's vengeance upon a target who, against her will, has stolen her heart?
F
irst let me say, I seriously love this cover. It absolutely grabbed my attention. I mean girl in a gorgeous medieval dress with a crossbow in her hand. How does that not get you to pick up the book? Right away I wanted to know who this girl was and why she was caring this weapon. Also, the tag line "Why be the sheep when you can be the wolf" is just awesome (especially since it doesn't have anything to do with werewolves.) So the cover alone was enough to get me to pick this one up, but the summary was what really sold me, I mean, come on, medieval killer nun in training, yeah that sounds like something I needed to read.
The World of His Fair Assassin
It's been a while since I picked up an historical fiction novel set in the medieval/renaissance period and boy did I forget how much I LOVE all the drama that goes along with a royal court. I mean the plotting, deception, and intrigue of that world. *love it* Not to mention all the finery and chivalry that one will often find in that type of setting that just isn't in our modern day world, and Grave Mercy has it all.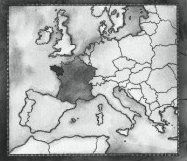 Map credit: http://www.robinlafevers.com/
Grave Mercy is set in 15th century Brittany. Now I've studied medieval history, but I'll admit I knew very little of the history of Brittany prior to reading this book. I knew Brittany is part of modern day France, but I honestly didn't know exactly what part of France it was located in. (it didn't help that there was a slight printing error and 1/2 information including a view of France didn't make it into final copy of the book. See this post explaining the mishap in Ms. LaFever's Blog, and for a look at the correct version of the map.) After I found my bearings and realized Brittany was the peninsula the north western region of France, I was ready to dive in and learn a little bit about a place and period in history I didn't know to much about.
T

he historical setting of Grave Mercy based in truth. The court Ismae must infiltrate is the real court of Anne Duchess of Brittany, and many of the people at court were real as well. As with any historical fiction the author has taken liberties and created charters to enhance the story she is trying to tell. If you are interested in the history behind the book (a I was) the author has provided a wonderful "authors note" on her website.
T
his story however is not strict historical fiction, it's historical fantasy, and the mythology created for this world is pure magic. The Brenton gods have been refashioned by the Catholic Church as saints. It was common practice for the Catholic Church to incorporate pagan beliefs into their own traditions to make it easier to convert people to Christianity. In the world of His Fair Assassin these gods, now saints are more than just myth they are real. Ismae being a daughter of Death himself has been given special gifts that make her an adept assassin.
The Fair Assassin
R
ight from the beginning of the book we learn about Ismae's struggled pass. She has a large red stain with welts and scars on her back, marks left by an herbwitch's poison her mother took to expel her from her womb. The fact Ismae survived, the herbwitch said, was proof that Ismae was a daughter of death himself. As young woman Ismae barely escapes a terrible arranged marriage and finds her self at the Convent of St. Mortain where the nuns still serve the the Breton god of death. Ismae spends the next three years training to be one of Death's handmaidens and is currently serving the convent as a novice. Ismae must prove she is ready to take her vows and be come a full sister of the convent and devote her life to doling out the vengeance of Mortain. To do so she must complete her first kills, but things get complicated when her assignment to follow Gavriel Duval a Brenton noble causes her to question the true intentions of the convent. Even worse is that she just might, maybe be falling for him.
R
eally I can't blame Ismae one bit for falling for Duval, because I pretty much fell for him myself. Maybe its the whole historical setting, I'm pretty much a sucker for period guys. Not to mention that Duval isn't your typical YA love interest (that being a teenage boy, which I don't tend to fall for because, I'm not a teenage girl.) I wouldn't exactly say he was charming, but he is very much a gentleman, chivalry can go a long way. There was also his devotion to the duchess that totally won me over. As Ismae fought over her growing feelings for him I found my self hoping he was truly what he presented himself to be, not only for her sake, but because I was falling hard for this fictional guy myself.
Final Thoughts and Recommendation:
Grave Mercy
is full of action, deception and treason, with just a touch of magic and romance thrown in.
I would recommend this title to anyone who enjoys historical fiction as well as fairytale fantasy books. Over all I think girls will enjoy this book more, but I believe there is enough action (she is an assassin after all) to keep a guys interest as well. The romance isn't too over powering to turn a guy completely off, but the tension between Ismae and Duval will satisfy romance fans.
I truly enjoyed this book and wish I didn't have to wait a year for
Dark Triumph
the second book in the trilogy to come out, but so is life. I'm sure I'll find plenty of other stories to fill the gap.

The Rating: