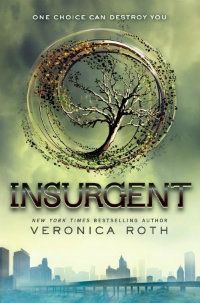 Insurgent
(Divergent #2)
By Veronica Roth
Published:
May 1, 2012 by HarperTeen
Read from:
May 1-3, 2012
Number of pages:
525
Source:
Anderson's Bookshop
Find it on:


S

ummary:

One choice can transform you—or it can destroy you. But every choice has consequences, and as unrest surges in the factions all around her, Tris Prior must continue trying to save those she loves—and herself—while grappling with haunting questions of grief and forgiveness, identity and loyalty, politics and love.

Tris's initiation day should have been marked by celebration and victory with her chosen faction; instead, the day ended with unspeakable horrors. War now looms as conflict between the factions and their ideologies grows. And in times of war, sides must be chosen, secrets will emerge, and choices will become even more irrevocable—and even more powerful. Transformed by her own decisions but also by haunting grief and guilt, radical new discoveries, and shifting relationships, Tris must fully embrace her Divergence, even if she does not know what she may lose by doing so.

New York Times bestselling author Veronica Roth's much-anticipated second book of the dystopian Divergent series is another intoxicating thrill ride of a story, rich with hallmark twists, heartbreaks, romance, and powerful insights about human nature.
W
ow, just wow! I don't want to go into details because I don't want to spoil it for anyone. I'll just say if you haven't started this series go and find a copy of Divergent now.
I will go into a few reasons why I LOVE this series. Mind you If you haven't read Divergent there may be some minor spoilers.
First, the world building in this series is very strong. The Faction system[author:Veronica Roth|4039811] has created is very intriguing and a true dystopian society. The world also feels very real to me, that
might
have something to do with it being set in Chicago, and being a Chicago area native I have real life experience in this city so when the author (also a Chicago area native) mentions Millennium Park, Lower Wacker, the Handcock, or the Sears Tower instantly know what those places look like. In some instances my familiarity with area was more of a distraction, for example when Tris mentions the Amity compound is an hour drive from the city I find myself wondering exactly where that could be, or where exactly the abnegation and dauntless compounds are located (North and South Side respectively but no set location according to Ms. Roth via an interview on
Windy City Live
)
I also really enjoy the characters in this series both Tris and Four are fully developed characters. Tris is strong and independent (although she doesn't always see herself that way) and in Insurgent she has some really difficult things to deal with emotionally that threaten to break that strength. There were a few times I felt my self thinking "No Tris why are you doing that" but it's the mistakes Tris makes and the secrets she keeps that make her real. As a reader who is looking down on the situation I can see Tris isn't making the right choice by keeping things from people, but honestly if it was me living through this experience I can't say I wouldn't have done the same thing. The way Tris rings so true is the reason I love her.
Unlike a lot of "dystopian" novels out right now their relationship isn't the driving force of the novel. It's the threat of war among the factions and although this threat clearly effects Tris and Four's relationship it isn't the all consuming plot of the novel. As for their relationship it isn't perfect, and what relationship is? Tris has some major trust issues, and Four isn't entirely honest with her either. It will be interesting to see how the relationship continues to develop in the 3rd book.
Over all I really enjoyed Insurgent, maybe more than Divergent. One thing I know for sure I will be anxiously awaiting the final installment of this series!
Recommendation:
I
f you enjoyed Divergent then you love this one. There is a lot more information about the factions in this installment, so if you've been dying to learn more about Tris and Four's Chicago (like I was) you are in luck! Insurgent is a fast pace read filled with tension that will leave you wishing the last book wasn't a over a year away.
If you are a fan of dystopian novels the Divergent series is a must read! It's a great series for both boys and girls, teens and adults. I've had teachers as well as students asking me when we will be getting this title in our LMC.
My Rating: